The History..

"Galaxa Mansion"is housed in a traditional, officially listed building, built in the early 18th century. This mansion, originally a ship-owner's residence, was one of the first houses of the town.
It was owned by Visvikis family, one of the most privileged families of that era. According to the legend, which is still alive, the house belonged to a fairy. A young man met her one night at the seaside, was fascinated by her beauty, fell in love with her and they finally got married. The mansion was the nest of their love: they made a family there and lived in it till they got very old, happy and envied by everyone.
The young couple had two daughters whom the locals called "fairy touched "… and the legend keeps on…
During the difficult times of the decline of Galaxidi, the mansion was deserted, however standing proud and imperious as the years went by. Its many owners came and went but for the last 25 years, under the name "Galaxa", it is one of best guesthouses of Galaxidi.

and the Legend..

It took its current name "Galaxa" from the mermaid "Galaxa", who, according to the legend, the locals used to see in the night hours, by the seashore. The men had fgot crazy about her and they were trying to find her, out in the sea. One night, the village women, too, went out to meet her and when they saw her, they called her by her name, Galaxa. Then, the mermaid came out of the sea and told them that her father, Oceanus, had sent her to bring the love of the sea to the lads of the village. After that, she had to leave, however, under the condition that the town would be named after her. (source: Chronika by Eva Vlami).
... they say that at the seashore of Galaxidi one night, a fairy ...
... when a star was ready to catch fire but went off, falling into the sea, they called out her name: Galaxa
Reference: (Eva Vlami)

Today..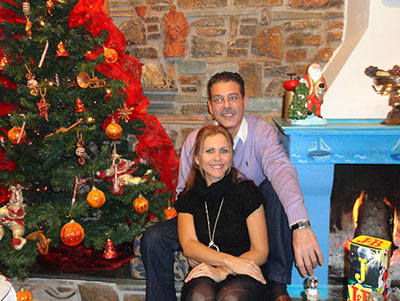 Since November 2013 the old ship -owner's mansion has passed into the hands of the family of Vasiliki and Avgoustinos Lavdas, active in the tourist industry for three decades. The family, using its experience, willingness and passion, aims to give new life to the mansion and to the legend, making use of the comforts demanded by today's quality hospitality.